The Producer's Corner with Spud Too Tight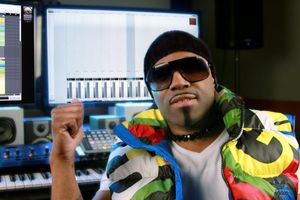 Spud is a gifted, prolific keyboardist and composer. I've requested some of his tracks already for future projects we will work on together. He is also one of the very few producers in the game that can emulate the "New Jack Swing" sound to measure up to my standards of excellence. His show is a great attribute to the music industry" says Teddy Riley.
 
Music Producer/Composer/Tech Innovator Spud has for over two decades branded his unique sonic signature sound and cornered the market in the Twin Cities  as being one of the busiest composer producers. 
He has created tracks for upcoming artists, drive time music for Urban and Smooth Jazz radio stations, music for national a documentary centered around one of the recording artists of the famed Grammy Award Winning group Sounds of Blackness to producing music for award winning radio and television commercials, which included a voice-over with Oscar Globe winning Actor, Director & Diplomat Sidney Poitier on Prostate Cancer. 
 
Los Angeles acclaimed Film Producer Dion Fearon, with prestigious IMDB film credits commissioned Spud for the music composition and production on The ASHE' Foundation Shoes for Africa national television commercial spots that included celebrity moderators Tom Arnold, Claudia Wells, Kenny Lattimore, Essence Atkins, Harry Smith, (brother of Will Smith) and a host of others. 
Two edgy urban tracks produced by Spud are on the epic soundtrack Bomb It 2, a world renowned positive outdoor arts documentary by award winning film director Jon Reiss, who also placed music by Grammy nominated singer songwriter Rueben Studdard on the same soundtrack. Spud has also collaborated on music projects with other award winning and Billboard chart topping recording artists.
For the past six years, Spud has worked with Grammy Platinum Icon Teddy Riley who is famed for producing the "Dangerous" LP which sold over 80 million copies for the late legendary pop icon Michael Jackson. Spud served as a sound designer, music technology software expert consultant, creating spec tracks and iconic pre-production for the Teddy Riley New Jack Swing global concert music tours. 
Spud is currently producing phenomenal music for upcoming projects and is being branded and marketed as an orchestral and multi-genre composer for film/documentary, television, multi-platform streaming services and other music related projects. His extraordinary talents as a musician, gifted ear for emulation and expert audio engineer brings the ultimate experience to visual projects. 
For the past 5 years he has also conducted music technology video tutorials on his YouTube Channel.
You are visitor number: 30013